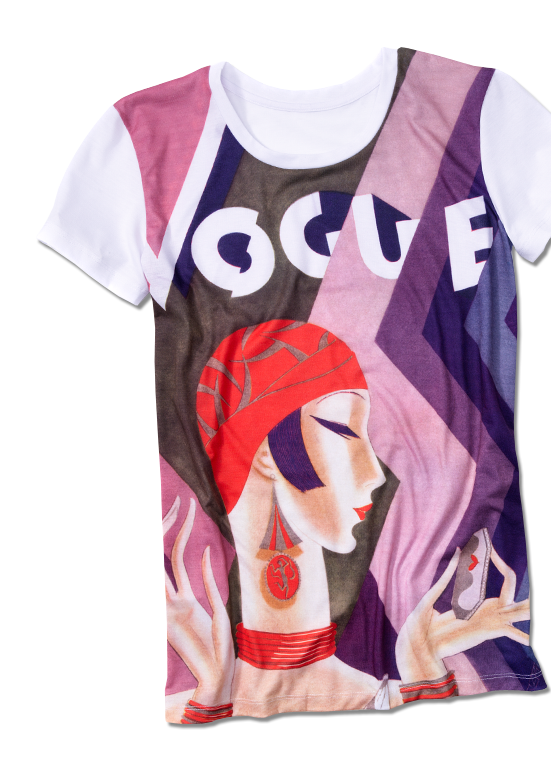 Eduardo Garcia Benito's Art Deco flapper
Vogue Cover – July 1926
This exuberant portrait appeared on the July 15, 1926 cover of Vogue. Eduardo Garcia Benito depicts a well-dressed woman in a red cloche hat and drop earrings, with a fashionably short haircut, holds a compact against a zigzagged background.
(Spanish, 1891-1953) Born in Valladolid, Spain. A portrait painter, decorative artist and illustrator, his artwork graced the cover of Vogue over ninety times between 1921 and 1940. Benito used the pochoir technique. The technique, which results in remarkable depth of color, uses stencils cut from thin sheets of metal or thick paper in conjunction with hand coloration. It was popular in the late 19th and early 20th centuries for use on Art Deco-style fashion plates. Condé Nast asked Benito to redesign the look of his magazines in the late 1920s. In the spirit of modernism that permeated throughout the arts at the time, Benito instituted sans-serif typefaces and did away with the decorative borders, known as "cabbage" in the publishing business that surrounded photographs and illustrations. In 1929, Benito famously turned down an offer to become art director for all of the Nast titles. Instead, he packed up his belongings and went home to Spain to become a sheep farmer.